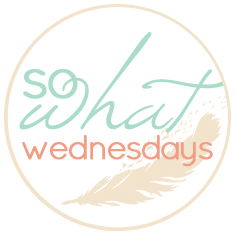 This week I decided to participate in my very first link up (*canned applause*, thank you). It's called "So What Wednesdays" and you can check it out over at Life After I "Dew". So here goes nothing.
This week I am saying SO WHAT IF:
I failed a "merit test" for a state job that I really wanted. I can't test again for 6 months. Over half the test was about accounting and auditing. I only passed accounting in college by the grace of God (and my best friend, accounting major, Natalie). I wouldn't have wasted an hour and a half of my life if they would have just told me that the test was accounting based. Btw, the job had nothing to do with accounting... AT ALL.
I treat my basset hound, Oliver, like he can do no wrong. That dog gets away with murder. My fiance's rat terrier on the other hand... meh.
I am really loving Gypsy Sisters on TLC
We have a folding table instead of a coffee table in our living room. I took it out to craft on while I was watching TV 2 years ago and it just stayed. *shrug*
We eat at said folding table because I always have sewing projects strung out on the kitchen table (sorry Curtie!)
I like pork rinds but I never eat them for fear of being judged. THERE I said it!
I get my feelers a little hurt when no one likes a pic I post on instagram. It's like a silent insult.
I do NOT like Mumford and Sons. I feel like I am the only American who thinks this way.
Well, there ya have it! My very first link up in the books. What are you saying "So What" to this week?
Just look at that face!